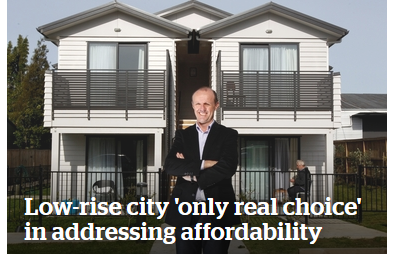 "Auckland is becoming a divided and truly inequitable city," he says.
Peter Jeffries says there is a huge demand for more affordable rental accommodation, as a result of Auckland's population growth and decreasing home ownership.
"Increasing demand and stalled supply will place a huge strain on both people who are renting and the local economy as employees struggle to afford to live in Auckland."
He says with such large rent increases looming for renters it is time for council to act. Auckland's Unitary Plan does not include sufficient provision for affordable housing and there are too many restrictions on the development of land within the city.
"When neighbourhoods and councillors place restrictions on the growth and development of their areas, there is a very real financial cost borne by the increasing number of people who rent in the city."
Peter Jeffries says the Auckland Plan had the goals right but they appear lost in the Unitary Plan. He has called on councillors to get back on track and take action to make sure that a substantial portion of the new housing supply will deliver affordable rental options to the 50 percent of Aucklanders being priced out of the city.
"Councillors need to be held to account for their failure to deliver the outcomes of the Auckland Plan – to house all Aucklanders in secure, healthy homes they can afford. And we want councillors to talk about affordability when they debate the Unitary Plan not just aesthetics or pleasing existing property owners.
Read Peter's opinion piece here and his full paper,here.
See the Herald's articles on Peter's opinion piece below and Scott Figenshow's letter of support here.