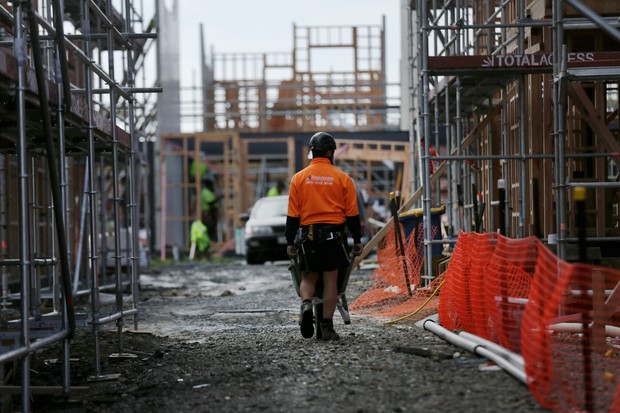 A development in Hobsonville: The Auckland Council's deal with the government means a percentage of large developments have to include affordable homes. Photo: RNZ / Rebekah Parsons-King
The council has set up more than 150 Special Housing Areas (SHAs) with the government, under the Housing Accord, in order to fast-track building tens of thousands of new homes.
Under the deal at least 10 percent of large developments have to have cheaper homes for first-home buyers on modest incomes.
But the council said it had no single system for monitoring exactly how many had been built and sold.
It said it had received 83 statutory declarations since April 2016 from developers who had sold an affordable house to someone who fit the criteria.
Of those declarations, 49 were in west Auckland, 23 in central Auckland, 11 in south Auckland and none in north Auckland.
View information about the SHAs, and where to find them, on Auckland Council's website.
In a statement, chief operating officer Dean Kimpton said statutory declarations were only one part of the story, and the council did not physically sign them off.
Rules for Special Housing Areas varied. For example, Waimahia Inlet in south Auckland had more than 200 affordable homes finished or close to completion but no statutory declarations were needed.
"It is important to note that there is not one single system for monitoring the completion and sale of affordable homes in Special Housing Areas. Conditions can vary depending on the type of consent issued per development," Mr Kimpton said.
"In addition, it is incumbent on the developer to complete and send statutory declarations to the council rather than the council physically signing them off."
Building and Construction Minister Nick Smith said when the government owned the land it could determine prices but in private subdivisions it never had.
Its programme with the Auckland Housing Accord had been to unlock land to increase the supply of housing and that was succeeding, he said.
"We consented more houses in the month of May than in any year in 40 years."
Dr Smith said the government's position was that regulating house prices through the Resource Management Act was never going to succeed, and requirements for statutory declarations were dropped when the Unitary Plan superseded the accord in October, because the evidence was those mechanisms didn't work.
He pointed to the Massey Home Affordability Survey (PDF, 720KB), which showed some improvement in the level of average income required to service a mortgage in the city.
Listen to the full interview here: Download
"It's headed in the right direction" – Nick Smith
"What I'm encouraged by is that affordability has improved over the last 12 months, as incomes have grown, as interest rates have lain flat and house prices in Auckland – at last the heat's coming off, as we've seen over the last nine months, and we're seeing record levels of construction."
RNZ had more questions about the statutory declarations and whether some developers had not completed them but no-one at Auckland Council was available to answer yesterday.
Housing groups say without exact data the council can't make a difference to the housing crisis and can't be sure developers have met their obligations.
Housing strategist Leonie Freeman she was surprised neither the council, nor government, could say how many affordable homes had been built in the SHAs.
Ms Freeman said it showed a lack of co-ordination between the different housing bodies to solve the housing crisis.
"It's concerning and surprising … how else do we know if it's been a success or not" – Leonia Freeman duration 6′ :55″
The head of community housing trust CORT, Peter Jefferies, said Special Housing Areas scheme was failing Auckland families on modest incomes who could not afford to buy in Auckland.
He said developers had big wins from the scheme.
"For that they were supposed to be delivering affordable housing, 5 to 10 percent, and for the housing accord that should have resulted in at least four to five thousand houses."
Mr Jefferies said neither the council nor the government were taking the housing crisis seriously and he wanted stricter monitoring of developers to ensure they built affordable homes.