Community Housing Solutions
Community Housing Solutions Ltd (CHS) is the consulting service subsidiary of
Community Housing Aotearoa (CHA).
About Community Housing Solutions
Community Housing Solutions (CHS) was established to provide Community Housing Aotearoa (CHA) with a delivery arm to provide technical consulting services to individual members and community housing providers and other organisations seeking specialist advice on social and affordable housing
We use this decision tree (to the right) to decide if something falls under member or sector support or if it should be undertaken by CHS.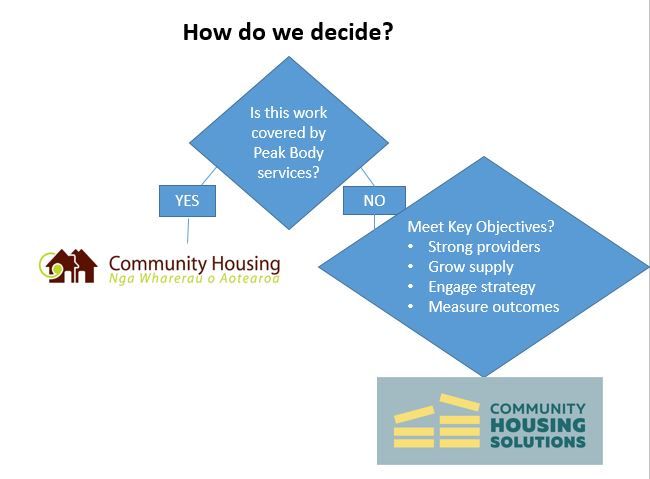 What's the difference between CHA and CHS?
Community Housing Aotearoa (CHA) is an incorporated society and registered charity. CHS is a wholly-owned company of CHA and is also a registered charity. As an incorporated society CHA focuses on the needs of its members and its mission of promoting community housing. CHA has a contract with government to deliver peak body services for community housing and also homeless sector support services. CHS was established to clearly differentiate those activities from work which falls outside the scope of peak body services.

Community Housing Aotearoa
Publicly funded core peak body services
Public policy advice
Advocacy
Newsletter
Network support
Problem triage and advice
Directing to contacts or resources
Access to the

 

Best Practice Standards
Up to date

 

Best Practice Guide

 

and associated resources
Advice on Best Practice implementation
Community Housing Regulatory Authority registration coaching
Advice and information related to Best Practice
Training and events

Community Housing Solutions Limited
Fee for service
Housing needs assessments
Strategic planning advice
Asset management advice and portfolio planning
Community Housing Regulatory Authority registration application preparation
Research and evaluation
Development of organisational-specific resources
Development of scheme-specific financial models
Examples of the type of work CHS has conducted
2020 Housing Needs Assessment report to Waimakariri District Council
2020 Housing Needs Assessment update report to Hutt City Council
2019 Housing Needs Assessment report to Hutt City Council
2017 Housing Needs Assessment report to SmartGrowth covering Tauranga / Western Bay of Plenty
2020 Social and Affordable Housing report for the Greater Christchurch Partnership
2018 report for Christchurch City Council evaluating the Goulding Avenue property sold by Council at a restricted use value to a consortium of community housing providers to deliver social, affordable rental and assisted home ownership
Auckland City Council Housing Policy Office development of policies, procedures and documents to administer the Special Housing Areas.
2014 report for The Treasury on the community housing sector; and
In addition, other relevant projects include the provision of advice and/or participation in
The Dunedin Mayor's Taskforce for Housing
Tauranga City Council's Elderly Housing Review Working Group
The Wellington Mayor's Housing Taskforce
The Queenstown Lakes District Council's Housing Affordability Taskforce; and
The Hutt City Council's Homeless Strategy meeting facilitation.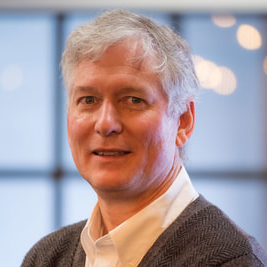 Chris Glaudel
Deputy Chief Executive
Chris Glaudel has over 25 years of direct experience across a variety of roles in social and affordable housing including development, tenancy and property management, asset management and policy development. As the Deputy CEO of Community Housing Aotearoa, Chris is responsible for the operational activities, member services, capacity building and quality assurance, and policy development and research to deliver on the strategic objectives of the organisation.  He has overseen the development of more than 1,500 affordable ownership and rental homes in central California. He was also responsible for the asset management of 115 properties throughout California with over 5,000 units, all serving low-income households. 
Phone: (027) 4620605