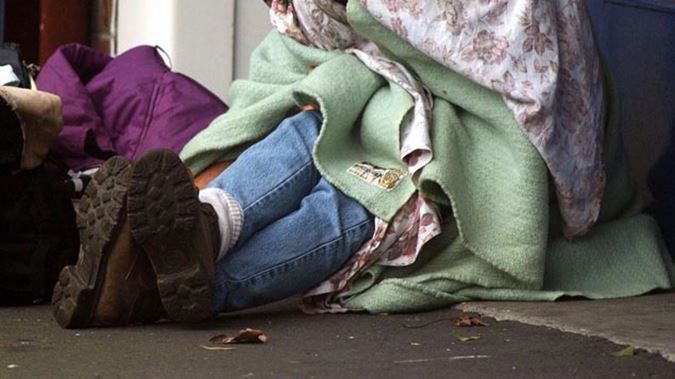 The Housing First Auckland pilot is already up and running but is being officially launched today by Social Housing Minister Amy Adams and Auckland Mayor Phil Goff.
It aims to help 472 chronically homeless people find accommodation over two years.
The pilot focuses on the city centre, central, west and south Auckland and aims to get them into safe and secure accommodation and then provide services to address issues that have contributed to them ending up on the streets.
Community organisations including the Auckland City Mission, Lifewise, Affinity Services, LinkPeople and Vision West are involved.
Funding is provided by the Government ($3.7 million) and Auckland Council ($1 million).
The Housing First concept originated in Canada and is based on the idea that people in need should be housed first, before any other issues such as addiction, mental health, or anti-social behaviour are addressed.
Its founder, American psychiatrist Sam Tsemberis, has previously visited New Zealand to promote the policy and former Social Housing Minister Paula Bennett announced nationwide investment in July last year.
The approach is well advanced in Hamilton, where the project has housed more than 200 people. In Auckland, eight people have been helped into accommodation with 30 more in line for similar help.
Adams said the drivers behind homelessness were often complicated and difficult to address, including mental health issues, alcoholism or family violence.
"There isn't a quick fix. We need to combat homelessness at its core by addressing the causes behind it."
Goff said homelessness was a growing problem in Auckland.
"The housing first approach has worked in other cities in New Zealand and overseas, and that's why we are adopting it here."
The Government has faced criticism and political pressure over the issue of homelessness, after reports of people sleeping in cars and garages.
Last month the Salvation Army's annual "state of the nation" report said homelessness "unseen in more than a generation" was among the reasons the country was "heading off the track".
The report said Auckland's population grew by 181,500 in the five years to last September. At the 2006 census average of three people per dwelling, it needed 60,500 more homes to cope.