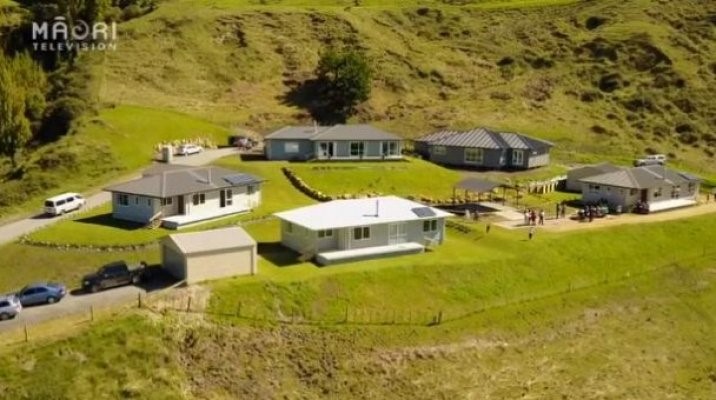 photo Maori Television)
The package, announced May 8, includes $10 million over four years allocated to marae. The money will help restore, insulate and repair marae facilities such as wharenui and wharekai.
Kainga Ora, or Māori Housing Network, is another initiative which will benefit from the funding, receiving $8 million to continue helping whānau to get in to affordable homes. Kainga Ora was set up by Te Puni Kōkiri to work alongside whānau, hapū and iwi to achieve housing aspirations. Kainga Ora assist people to plan their project, source the necessary funding and develop the idea until it becomes a reality. Projects that Kainga Ora consider could range from community home repair programmes and papakainga infrastructure for housing to emergency accommodation. The programme has already supported 140 housing proposals worth $37.5 million since its inception in 2015.
A Ngāruawāhia whānau of 19 were able to move in to their new 8 bedroom papakāinga home earlier this year thanks to funding from the Māori Housing Network. You can view the Te Kāea story on the Turner whānau below.
Te Ara Mauwhare, otherwise known as Pathway to Home Ownership, is another initiative that will benefit, receiving $9 million over three years. The programme trials innovative new approaches helping whānau achieve more housing independence with the aim of increasing Māori home ownership rates.
Māori social housing provider, He Korowai Trust have led a project under Te Ara Mauwhare. State owned homes from Glen Innes were once destined for demolition but were instead moved to Kaitaia and converted into communal Māori ownership in the form of Whareora Papakāinga. The homes are amongst the cheapest in the country at $130,000 each. Last year in June, 17 adults and 43 children were the first to reap the benefits of the initiative, having previously lived in substandard, unhealthy or unreliable living conditions. No deposit was required and their homes will be freehold in 17 years.
Residents at Whareora Papakāinga also have access to free medical care, free early childhood, free budgeting advice from specialists as well as a number of on-site NZQA accredited programmes. A māra kai and live stock provides the whānau with free eggs, meat, vegetables and milk.