Government Funding Announcement Welcome.pdf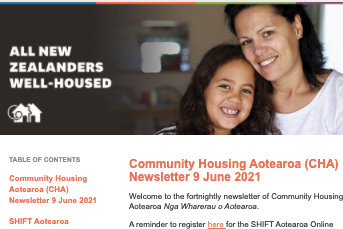 CHA Newsletter 5 August 2019.pdf
No Results Found
The page you requested could not be found. Try refining your search, or use the navigation above to locate the post.
No Results Found
The page you requested could not be found. Try refining your search, or use the navigation above to locate the post.
Our Stories
View Community Housing Aotearoa's media releases, news, newsletters and case studies below.
Prime Minister John Key's suggestion that Auckland Council could be forced to free up more land for housing whenever homes became unaffordable in the city is already being criticised as misguided and unlikely to help the city's housing woes.
The Government has put on hold the sale of Housing New Zealand homes in Invercargill after PACT pulls out of the process.
Te Puea Marae in Mangere started taking in the homeless last week and so far has found homes for four of the 45 families who have sought help.
Community Housing Aotearoa Chief Executive Scott Figenshow says there is some good news in the budget but the Government has not gone far enough to deliver coordinated solutions that work.
Economist Geoff Simmons of the Morgan Foundation talks about the housing crisis and 'ghost' houses to Jessie Mulligan on Radio New Zealand.
2016-17 Budget: Where's the investment in housing?
Over the last week we've seen a significant amount of media around the experiences of New Zealand's homeless and how emergency housing providers are stretched trying to respond to their needs. It has galvanised public opinion and the country are horrified at what they have learned of the plights of homeless individuals and families and the people trying to find housing for them
Can you provide the leadership to support the growth and development of the Māori housing sector in Aotearoa New Zealand? Te Matapihi has created a new Manager role that will be based in either the Wellington or Auckland Community Housing Aotearoa office.
The Minister of Finance made pre-budget announcements housing policy this week. In his speech, the Finance Minister stated that a principle cause of affordability issues, in Auckland in particular, arise from planning rules set by councils that restrict, delay and raise the cost of development.
The hidden homeless and costs of the lack of affordable housing are explored in these two media items. TV3's the Nation looks at the current hidden homeless situation in Auckland and Salvation Army talk to Radio New Zealand and say the Government can't continue to ignore the growing numbers of people forced to live in cars, shipping containers and garages.