Wellington Region DHB Homeless Provider Network Update 6 April 2020 - FINAL.pdf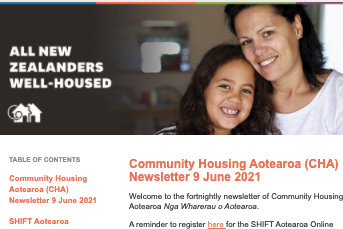 CHA newsletter 3 September 2018.pdf
No Results Found
The page you requested could not be found. Try refining your search, or use the navigation above to locate the post.
No Results Found
The page you requested could not be found. Try refining your search, or use the navigation above to locate the post.
Our Stories
View Community Housing Aotearoa's media releases, news, newsletters and case studies below.
Campbell Live features interviews with NZ Housing Foundation and HNZC
At any one time, there are an estimated 357 homeless people in Central Auckland alone, many enduring hardships beyond the rain, wind and cold of sleeping rough. October 10 is World Homeless Day when the public are invited to learn more about this pressing issue and how they can get involved.
Here are documents on the social housing reform programme presented to the sector by Government in October 2014
Community Housing Aotearoa (CHA) is seeking to elect one Council member at the 2014 AGM, to be held on 14 October 2014 at 1pm, in Wellington. Completed nomination forms are due by Friday 10 October 2014.
Dwell Housing Trust is a new organisation, but one with a long history and a wealth of experience. Dwell became operational in 2013 following the merger of Wellington Housing Trust and Mahora House Incorporated, who between them have more than 50 years' experience in the community housing sector. The joining of these two organisations has created a uniquely experienced and capable organisation committed to the greater Wellington region. This combined experience and resource has increased the range and quality of services available to tenants and Dwell is now well positioned to grow to meet the increasing housing needs in the region.
Housing as a human rights issue
The death of young Christchurch resident, Corey James Mclean, over the weekend highlights the growing problem of youth homelessness in New Zealand. With more than half of New Zealand's homeless under the age of 25, youth homelessness is not only an economic drain on New Zealand, it also signals the tragic loss of hope and potential, and in this case, the tragic loss of a life.
Hamilton's pensioner housing stock is poised for a radical overhaul with a proposal to sell off the council's entire portfolio.
Christchurch City Council's decision to lease its social housing to a separate entity will secure the service for tenants and grow it into the future, says Deputy Mayor Vicki Buck.
Nga Iwi Katoa is a community-led initiative focussed on housing and home building in Tāmaki, (Glen Innes, Pt England and Panmure), Auckland. It is seeking to become a thriving social enterprise that works collaboratively with others to ensure a range of affordable, appropriate, healthy and sustainable housing options in Tāmaki.