First Home Loan and Grant - Factsheet -23 March.pdf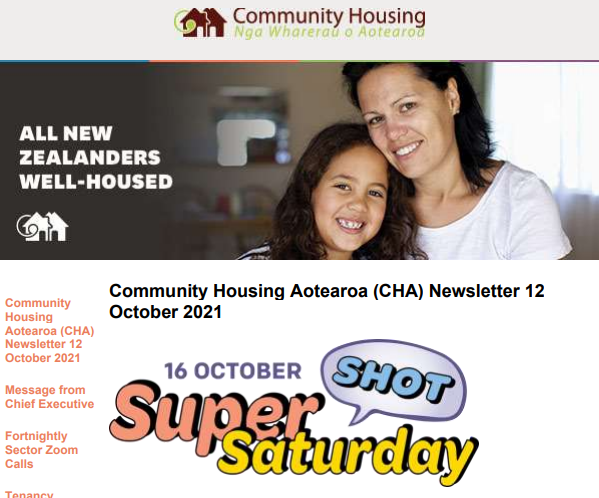 Message from Chief Executive, Fortnightly Sector Zoom Calls, Tenancy Management Community of Practice, Ngāti Toa...
No Results Found
The page you requested could not be found. Try refining your search, or use the navigation above to locate the post.
No Results Found
The page you requested could not be found. Try refining your search, or use the navigation above to locate the post.
Our Stories
View Community Housing Aotearoa's media releases, news, newsletters and case studies below.
Media release - Community Housing Aotearoa "Putting families into motels is a temporary fix for desperate ...
Home and Housed A Vision for Social Housing in New Zealand Shelter is one of the most basic human needs, but a home is much more than the place where we hang our hat: it gives our lives stability and permanence and contributes materially to our physical and social well-being.
Government's fresh approach to progressive home ownership offers new hope for Kiwi families
Community Housing Aotearoa, Communications boost for CHA, ACHPN hosts site visits to showcase up and coming developments in Auckland, Housing developments in Manurewa, Auckland, CORT's Housing Development, Accessible Properties, Emerge Aotearoa and Penina Health Trust, Salvation Army, CORT, Congratulations to the Australasian Housing Industry 2019 Professional Excellence in Housing Awards, Homes for the homeless in Whangarei, $2.7 million to support new Tauranga papakāinga
We Believe, Housing Works June / July 2019 Spotlight on NZ, Housing Foundation Delivers Ownership in Tamaki, More measures to help those facing homelessness, Ministry of Business Innovation and Business (MBIE) provides 120 Building Code compliance standards online for free, Nelson City Council - Community Housing Divestment - Registration of Interest 2019, Providing relief for homeless in Hutt region, Radical Rethink Of Our Cities Will Improve Urban Wellbeing, New research links poor housing to hospital admissions, New research supports CPAG's call for a housing WOF, New homelessness measures a positive step forward
The Salvation Army, Habitat for Humanity, Housing Foundation and Community Housing Aotearoa are today welcoming the Green Party's support for a government-backed rent to own programme, a pathway to home ownership already operated by Community Organisations and advocated for by the affordable home ownership initiative KiwiBuy.
Background The Family Violence (Amendments) Act 2018 and the Family Violence Act 2018 improve the legislative framework for addressing family violence by giving priority to the safety of victims, including children, and preventing perpetrators from inflicting family violence. The Family Violence Act 2018 replaces the Domestic Violence Act 1995.
Community Providers Step Up Delivery, Habitat home repair work gets a $1M boost, KiwiBuy Campaign Momentum Growing, Regulatory Updates, Overseas people buy 75 inner-Auckland homes, Rising demand for rentals puts pressure on tenants, Biggest increase to public housing in nearly 20 years, Greens' Rent to Own an idea whose time has come, New building consents reach record high showing growth
Kainga Ora – Homes and Communities Bill Submission, Productivity Commission releases Draft report – local government funding, Kaingaroa community looks to a new future through housing project, Heat pumps funded by Government to keep Kiwis warmer, New Zealand's housing shortage is getting worse, not better, Charitable trust enable free insulation for low-income homes, GRAND OPENING! - Monte Cecilia Housing Trust
Dwell Housing Trust - New Dwell homes completed, Unpicking the Construction Development Pipeline, Productivity Commission releases Draft report – local government funding, Funding To Include Community Housing In Systems Approach, HNZ tenants left behind by new home standards, Housing repairs lead to well-being in Te Tai Tokerau, The Salvation Army opens free medical clinic as winter hits, 80% increase for Wellington rents, REINZ calls for clarity around property conditions, nsulation grants for low income families - apply now