SSPA National Manager secondment.pdf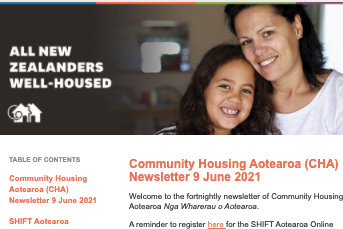 CHA Newsletter 20 April 2020.pdf
No Results Found
The page you requested could not be found. Try refining your search, or use the navigation above to locate the post.
No Results Found
The page you requested could not be found. Try refining your search, or use the navigation above to locate the post.
Our Stories
View Community Housing Aotearoa's media releases, news, newsletters and case studies below.
The trust tasked with helping Queenstown Lakes residents into their own homes is going back to the drawing board to work out where the "sweet spot'' is for affordable housing contributions from developers.
Over 190 local Palmerston North families will be helped into a warm, dry place to stay through the Government's social housing plans for the city.
​Progressive Thinking: ten perspectives on housing contains articles on housing affordability and access, state housing and rental laws, architecture and history, housing policy analysis and broader reflections on what caused the current housing crisis.
The Ministry of Social Development is sending homeless families to one-room units in Kaeo, a town which is already facing severe economic deprivation and housing problems.
Wellington City Council is partnering with the University of Otago, Wellington, to launch a voluntary Rental Warrant of Fitness for minimum housing standards in Wellington, Mayor Justin Lester has announced.
Social Housing Minister Amy Adams says the Government plans to buy another two motels to put up homeless people. The new purchases come on top of the four motels already bought by the Ministry of Social Development for emergency housing, at a cost of $4 million.
Queenstown's council is considering more radical solutions to the town's housing crisis after the government's Special Housing Areas (SHAs) failed to bring down prices.
​A contentious deal over Auckland Council-owned affordable housing land has been widened to include four possible buyers, after a spat over the price.
MSD has announced a number of housing initiatives that will be included in their approach to improve the mental health of New Zealanders under the Mental Health Social Investment Fund.
16 units at the former Eastland Motor Lodge are among 2150 transitional housing places that will be created around the country by the end of the year, Minister of Social Housing, Amy Adams said in Gisborne on 14 August 2017.