NSC advert 2020 pdf version.pdf NSC Governance Group member responsibilities.pdf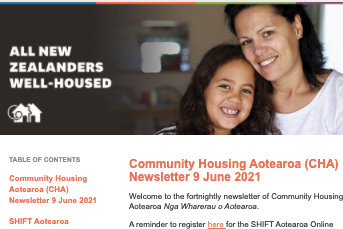 CHA Newsletter 16 April 2020.pdf
No Results Found
The page you requested could not be found. Try refining your search, or use the navigation above to locate the post.
No Results Found
The page you requested could not be found. Try refining your search, or use the navigation above to locate the post.
Our Stories
View Community Housing Aotearoa's media releases, news, newsletters and case studies below.
Whanganui's Salvation Army wants local landlords to drop prejudices about the city's homeless. The charity has funding for seven rentals, but is struggling to find long term housing for those in need.
The money spent by the Government on emergency housing could be enough to build a whole village. That's the opinion of one speaker at a Wellington housing forum on 9 August reports the NZ Herald.
In this newsletter we pay our respects to our colleague Natalie Jameson. We also hear some reflections from David Zussman on his recent trip to the UK and get a glimpse of the new MSD restructuring.
On 8 August Auckland Council decided what their position and role in relation to improving, ending and preventing homelessness would be. To see the options and decision please go here.
Penina Health is the first Pacific provider under the Government's social housing reform programme to be working in this area. The hope to support up to 84 families a year.
Innovative solutions designed to alleviate the affordable housing challenge in the Queenstown Lakes District are being honed by the QLDC Housing Taskforce.
Auckland Council's Planning Committee on 1 August 2017 received a review on the Auckland Housing Accord and requested a review of all Special Housing Areas to ascertain the number of affordable homes provided.The Auckland Housing Accord was intended to increase housing supply, including the increased availability of land, as well as improve housing affordability, until the Auckland Unitary Plan became operative in September 2016.
One of Auckland's leading property developers wants an end to tax breaks on investment housing, and has detailed the largest single philanthropic plan yet to build social housing.
More social housing is on its way across Greater Christchurch as the Government invests more for those in need, Social Housing and Housing New Zealand Minister Amy Adams has announced.
It is with great sadness that we share the news of Natalie Jameson's peaceful passing after a long illness on the morning of Tuesday 18 July. Natalie was a stalwart supporter of New Zealand's community housing sector and will be sadly missed.