CHA Newsletter 11 May 2020.pdf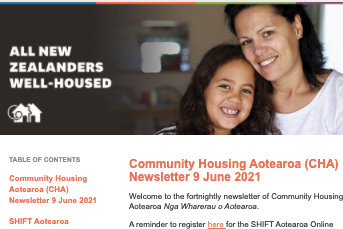 Community Housing Aotearoa Newsletter 23 January 2020.pdf
No Results Found
The page you requested could not be found. Try refining your search, or use the navigation above to locate the post.
No Results Found
The page you requested could not be found. Try refining your search, or use the navigation above to locate the post.
Our Stories
View Community Housing Aotearoa's media releases, news, newsletters and case studies below.
More emergency housing places, more support for tenants and more frontline staff have been announced by Government. The funding boost of more than $300 million is for up to an extra 1400 places at any one time, 600 in Auckland and the remaining 800 places in areas of high demand around the country
Congratulations to Paul Cottam and Christchurch City Council for their recently adopted housing policy – it incorporates the housing continuum and amkes references to housing adequacy. Our Place actions have been well-aligned to this landmark policy. We hope other Councils who are considering new housing policy, will take a look at this leading example from Christchurch.
In this newsletter we welcome the new CHA council, find out more about Our Place - setting a direction for improving housing affordability in Aotearoa New Zealand , and learn about the 18 for 4 campaign from the Auckland Community Housing Provider Network. We also learn more about theAustralasian Housing Institute Awards 2017 and Angie Cairncross shares some thoughts following the National Maori Housing Conference.
Community Housing Aotearoa's Angie Cairncross found herself pondering what a very different stock transfer approach could look like after listening to the experiences of Aboriginal Housing Victoria (AHV) as relayed by Jenny Sams at the recent National Māori Housing Conference in Tauranga Moana.
The Government has signed off on a national policy to ensure councils in rapidly growing urban areas provide enough land for new housing and business development, Environment Minister Dr Nick Smith says.
A Ministry of Health funded report provides key recommendations for the country's first national standard for methamphetamine contamination. The report, prepared by ESR, recommends that a different level be used to guide clean up where meth has been used, compared to the level for houses where the drug has been manufactured.
Congratulations to Victoria Kingi who was elected as the new member of the CHA council at the AGM on 26 October. Victoria works with Nga Potiki a Tamapahore Trust and Papakainga Solutions Ltd, has a legal background and been involved in the community housing sector for sixteen years.
A new housing entity on the Chatham Islands received $2 million today to assist whānau in need of housing support. Māori Development and Whānau Ora Minister Te Ururoa Flavell says the investment will be managed by the Chatham Islands Housing Partnership.
The Government has signed an agreement with Marutūāhu Rōpū and Ockham Residential Limited for a 100-home development in New North Road, Mt Albert, Building and Housing Minister Dr Nick Smith says.
Yesterday, Leonie Freeman unveiled a plan for fixing Auckland's housing crisis that would unite the government, developers and not-for-profit groups.