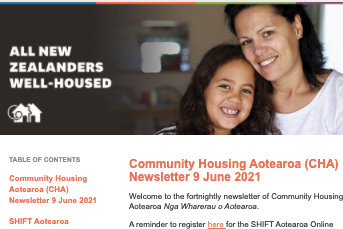 Community Housing Aotearoa (CHA) Newsletter 24 August 2020.pdf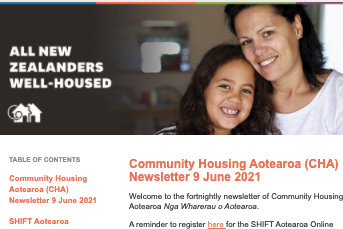 Community Housing Aotearoa (CHA) Newsletter 30 November 2020.pdf
No Results Found
The page you requested could not be found. Try refining your search, or use the navigation above to locate the post.
No Results Found
The page you requested could not be found. Try refining your search, or use the navigation above to locate the post.
Our Stories
View Community Housing Aotearoa's media releases, news, newsletters and case studies below.
New Zealand currently has a significant housing shortage across the country, and the Auckland shortage is around 60,000 properties alone
Community Housing Aotearoa is pleased to announce the release of Guidance on Transitional Accommodation Occupation Agreements. This is in response to requests from members and other providers for assistance following the rapid growth in the emergency housing sector. CHA carried out a review of the occupancy and tenancy agreements used by Emergency and Transitional Housing providers to support the development of best practice. We will soon be releasing a model tenancy agreement incorporating this guidance and legal advice.
Around 4 in 10 Pacific people live in crowded homes in New Zealand and the rate is highest for people with Tuvaluan or Tongan ethnicity, Stats NZ said today.
A Housing New Zealand redevelopment in Mount Albert last night won a New Zealand Institute of Architects award for the Auckland region in the Housing Multi Unit category.
In this newsletter we celebrate CHRA's fourth birthday.
CHA is pleased to see the investment of 64 million in the housing first initiative.
Community Housing Aotearoa is welcoming the Government's continued commitment to an approach that puts permanent housing at the centre of curbing chronic homelessness.
New Zealand's housing landscape is largely characterised by standalone homes and high density apartment typologies, particularly in Auckland - the epicentre of the housing 'crisis'. While intensification is a recognised solution to the housing supply shortage, there is a gap in the market for medium density dwellings to be delivered at scale.
Close to 1.6ha of land is for sale in rapidly developing central Albany with resource granted for 98 terraced houses but with potential for a higher density development.
A UN human rights committee is shocked by New Zealand's record on child poverty, inadequate housing, the incarceration rate, and violence, abuse and bullying.