Launch Invitation - Mana Kāinga and Hihiko o Mangarautawhiri (1).pdf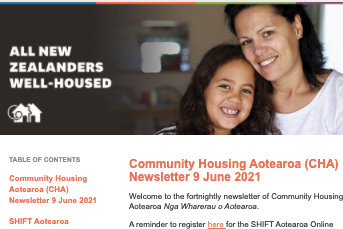 COVID-19 Community Housing Sector Update 1 April 2020.pdf
No Results Found
The page you requested could not be found. Try refining your search, or use the navigation above to locate the post.
No Results Found
The page you requested could not be found. Try refining your search, or use the navigation above to locate the post.
Our Stories
View Community Housing Aotearoa's media releases, news, newsletters and case studies below.
Developers behind a large housing development in the east Auckland suburb of Tamaki risk falling behind deadline if the pace of building doesn't pick up.
Working alongside Beacon Pathway, BRANZ have been developing an assessment tool to guide good practice for medium density development in New Zealand.
Mike Fox, is the Director of Easybuild Ltd and he attended a presentation by world renowned financial commentator, John Kay, in Auckland hosted by BRANZ.
Redeveloping central city buildings for residential housing and a one-stop shop for consents are among a raft of measures to be "pursued as a matter of urgency" to tackle Wellington's dire housing needs. Wellington City Council will be meeting this week to consider recommendations.
A community housing taskforce, established by Mayor, K. Gurunathan, earlier this year, has released a report showing more people are becoming homeless as a result of skyrocketing house prices and rents.
Here is an article written by James Goodhue for the Spinoff, that looks at how New Zealand can get out of the housing hole we've found ourselves in. This is well worth a read. James previously worked as a development manager for community housing provider, CORT, in Auckland. In the article he puts forward a comprehensive plan and looks at affordability in-depth and in the context of the housing continuum.
Dunedin is set to trial a youth housing facility to keep at-risk youth, including those who engage in prostitution in exchange for accommodation, off the streets.
Here's our latest newsletter that looks at: A report from August's Auckland Housing Summit, a profile on Tau and Kelly who are Housing Foundations 100th family housed, and building the capacity of the community housing sector, plus much, much more.
​Government have announced where Housing First funding, announced in Budget 2017, will be expanded to.
Community leaders in Porirua have expressed concern about the reduction of Housing NZ stock by 4000 over the last two years.