Resource 10- TEMPLATE HOUSEHOLD AND INDIVIDUAL CLOSE CONTACT LOG.pdf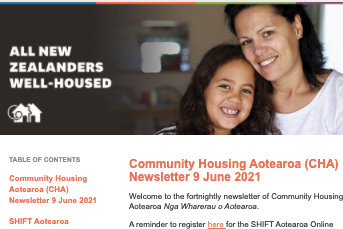 COVID-19 Community Housing Sector Update 26 March 2020.pdf
No Results Found
The page you requested could not be found. Try refining your search, or use the navigation above to locate the post.
No Results Found
The page you requested could not be found. Try refining your search, or use the navigation above to locate the post.
Our Stories
View Community Housing Aotearoa's media releases, news, newsletters and case studies below.
Budget 2017 announcement is to be on May 25. The Prime Minister announced in his pre-budget speech that over the next four Budgets the Government will allocate a further $11 billion toward capital infrastructure.
Like many other parts of the country Marlborough is experiencing housing shortages as almost $100,000 a month is being spent on to house people struggling to find other accommodation in Blenheim.
In this newsletter we see which 37 organisations are endorsing Our Place and learn more about the CHA IMPACT conference. Remember early bird closes tomorrow. We read more about The People's Mental Health report and the latest figures from the social housing quarterly report that show the number on the social housing waiting list continues to increase.
The latest social housing quarterly report released last week shows that the number of people on the social housing register is still increasing and the amount spent on the emergency housing special needs grant has increased to $8.8million since it was set up last year.
Julie Scott from Queenstown Lakes Community Housing Trust was interviewed by TVNZ about the affect of Air B and B on housing in Queenstown on 12 April.
In this edition of the CHA newsletter we have information on the release of the EOI on the Christchurch stock transfer and a link to the Housing Foundation research that looks at moving people from social renting to housing independence – supporting the case for the middle of the housing continuum.
A new model of affordable housing is under consideration for the Queenstown Lakes District that will address the needs of moderate and low-income residents, including families, without distorting or devaluing the existing market.
The Housing for Older People limited partnership between charitable trust, The Selwyn Foundation, and Auckland Council has confirmed its appointments to the Board of its General Partner and has also announced its new name, as it prepares to take over operations of the council's Housing for Older People portfolio on 1 July 2017.
Emergency housing providers are warning more homeless families will be sleeping in cars, parks and garages in Auckland this winter because of a desperate shortage of cheap accommodation.They say the crisis is worse this year because emergency motel units are already full, and at least one marae which helped people last winter won't be reopening its doors.
Government issued an Expression of Interest to community housing providers interested in taking over ownership of up to 2500 social houses in Christchurch. As part of this deal, the new provider will be required to provide at least 150 additional new social housing places.