Resource 8- ADVICE CONTACT TRACING.pdf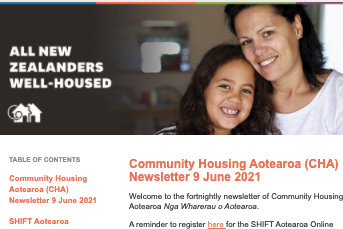 Covid-19 Sector Update 23 March 2020 .pdf
No Results Found
The page you requested could not be found. Try refining your search, or use the navigation above to locate the post.
No Results Found
The page you requested could not be found. Try refining your search, or use the navigation above to locate the post.
Our Stories
View Community Housing Aotearoa's media releases, news, newsletters and case studies below.
Cabinet ministers were on hand to show government support for its new social housing model at a ceremonial function in Tauranga on Friday 24 March 2017.From next month Accessible Properties will take over 1138 social houses and tenancies owned by Housing New Zealand.
A new initiative aimed at ending chronic homelessness in Auckland has officially kicked off.
A Hutt Valley community worker says an emergency housing programme needs to be about more than providing temporary shelter.
Radio New Zealand reported on the sale of the tenancy arm of the Tamaki Redevelopment Company today and talked to a number of stakeholders.
Building and Construction Minister Dr Nick Smith has welcomed the Ministry of Business Innovation and Employment's (MBIE) Tenancy Compliance and Investigations Team's first successful prosecution of a landlord for renting a substandard property, under the Government's tenancy law reform passed last year.
Renting in New Zealand is now the way most of us live. Spinoff editor Duncan Greive looks at the issues around renting in New Zealand.
The Selwyn Foundation is soon to start building a 90-bed residential aged care home at its Selwyn Village site in Point Chevalier (Auckland), in addition to its multi-purpose developments currently under construction at Selwyn Oaks (Papakura) and Selwyn St Andrew's (Cambridge).
In this latest edition of our newsletter we look at the revised goal of the Our Place plan; hear that the timeframe for Income Related Rent Subsidy RFP is likely to be extended beyond 31 March and read about two more speakers who will be at our CHA IMPACT 2017 conference in June.
An iwi-led partnership is building a 49-home development at Whenuapai, and says the project is the first of a number it hopes to undertake to help address Auckland's housing shortage as Treaty of Waitangi settlements are finalised.
New requirements for protecting retention money come into effect on 31 March 2017, and are set out in the Construction Contracts Amendment Act 2015 (CCAA). The CCAA's retention money provisions are designed to ensure payment of retention money to subcontractors, even in the event of insolvency.