Resource 9- TEMPLATE WORKPLACE FACIILITY DAILY CONTACT TRACING LOG.pdf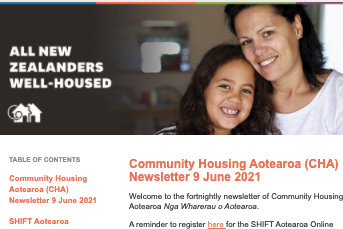 Community Housing Aotearoa Newsletter 23 January 2020.pdf
No Results Found
The page you requested could not be found. Try refining your search, or use the navigation above to locate the post.
No Results Found
The page you requested could not be found. Try refining your search, or use the navigation above to locate the post.
Our Stories
View Community Housing Aotearoa's media releases, news, newsletters and case studies below.
An iwi-led partnership is building a 49-home development at Whenuapai, and says the project is the first of a number it hopes to undertake to help address Auckland's housing shortage as Treaty of Waitangi settlements are finalised.
The Tamaki Housing Association (THA) is the wholly owned tenancy management services business of Tamaki Redevelopment Company Ltd (TRC). THA delivers these services for TRC's existing portfolio of around 2,800 social houses. TRC is inviting indications of interest from parties interested in acquiring THA.
New requirements for protecting retention money come into effect on 31 March 2017, and are set out in the Construction Contracts Amendment Act 2015 (CCAA). The CCAA's retention money provisions are designed to ensure payment of retention money to subcontractors, even in the event of insolvency.
Labour Party political polling suggests in many cases New Zealanders want politicians to introduce policies to bring down the value of their homes.
New Zealand has the fastest rising house prices among major developed countries, according to a report in the Economist magazine. The magazine suggests the trend may continue.
Environment Minister Dr Nick Smith welcomed the Local Government and Environment Committee's report on the Resource Legislation Amendment Bill on 6 March, 2017.
When demand is high, Economics 101 suggests that developers would be building every house New Zealand needs. The trouble is the risks and roadblocks involved mean that developers' interests are nowhere near aligned with the wants and needs of politicians and the public. This in-depth article written for the NZ Herald by Diana Clement looks at some of the issues for the development of more houses and what some of the solutions might be.
Alison Cadman of community housing provider, Dwell Housing, said the shortage of housing in Wellington is the worst it has been.
Here is the latest edition of the newsletter with news and events and articles about New Zealand's community housing sector.
The first stages of a new emergency housing development have been officially opened in Auckland's Otahuhu, giving more families a warm and safe place to stay in times of need.