Resource 5 - STAFF MAP - WHO IS IN YOUR BUBBLE.pdf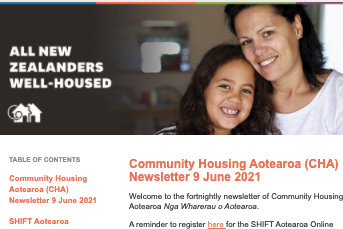 CHA Newsletter 15 April 2019.pdf
No Results Found
The page you requested could not be found. Try refining your search, or use the navigation above to locate the post.
No Results Found
The page you requested could not be found. Try refining your search, or use the navigation above to locate the post.
Our Stories
View Community Housing Aotearoa's media releases, news, newsletters and case studies below.
The Auckland Development Committee today voted by 14 to 8 to increase the amount of council-owned housing for older people. The Notice of Motion (attached) was presented by Councillors Cathy Casey and John Watson. Presentations in support were made at the committee by Auckland Council's Seniors Panel, Richard Northey of Auckland District Council of Social Services and Bill Rayner of Auckland Grey Power.
​Expressions of interest will be sought from Community Housing Providers keen to purchase Horowhenua District Council's 115 pensioner housing units. Council met today to deliberate and make its decision, following a comprehensive review and public consultation on a proposal that it no longer provides pensioner housing as a core service.
Te Aro Pā papakāinga - Wellington's first urban papakāinga opened
Matt Paetz, a leading New Zealand planner specialising in housing policy and development who is presenting at the New Zealand Planning Institute's annual conference in Dunedin next week, has worked on housing accords and SHAs in Auckland, Wellington and Queenstown.
The Queenstown Lakes Community Housing Trust is in full construction mode at its 44 lot site in Shotover Country, after roads and services were completed earlier this year. Construction has been broken into blocks with three separate firms completing houses for the three blocks.
The Ministry of Social Development (MSD) has appointed Carl Crafar as interim Deputy Chief Executive (DCE) for ...
Tāmaki Regeneration Company (TRC) is excited about the opportunities that come with owning and managing all the social houses in the Auckland suburbs of Glen Innes, Point England and Panmure from 1 April 2016. "The Tāmaki Regeneration Programme will deliver at least 7,500 new quality homes and unlock opportunities for social and economic growth," says John Holyoake, Chief Executive, TRC.
​Figures released for the first time raise questions about whether new home building in Auckland is making the city any more affordable. The median price of new dwellings is $800,000, and fewer than 20 percent of new homes qualify for KiwiSaver first-home-buyer subsidies.
One stop shop for data on community housing starts this quarter
Auckland Council's Community Development and Safety Committee convened yesterday to discuss homelessness and delivered a clear message to agencies and central government: we will not see an end to homelessness without nationwide collaboration and funding.