awaiting test results information.pdf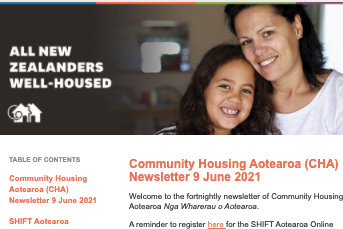 CHA newsletter 3 September 2018.pdf
No Results Found
The page you requested could not be found. Try refining your search, or use the navigation above to locate the post.
No Results Found
The page you requested could not be found. Try refining your search, or use the navigation above to locate the post.
Our Stories
View Community Housing Aotearoa's media releases, news, newsletters and case studies below.
A Tasman Housing Accord aimed at improving the supply and affordability of housing in the district has been signed today by Building and Housing Minister Dr Nick Smith and Mayor Richard Kempthorne.
Isn't it time for a strategy?
CHA is pleased to announce that recruitment is underway for up to 4 Independent Directors for the to-be-formed New Zealand Housing Bonds Ltd. NZHB is a sector-led response to the current housing challenges facing our country. It will deliver Auckland Housing Bonds to build affordable homes and provide a socially responsible return to investors. Expressions of Interest due by 15 June 2015.
Recently, the Salvation Army announced it would not be purchasing state homes from the Government to become a major social housing landlord.
Habitat for Humanity New Zealand welcomes more information from government regarding its recent announcement to commence its housing transfer programme in Invercargill and Tauranga.
Social Housing Minister Paula Bennett told TV One's Q+A programme that the government's social housing plan which includes transferring 1000-2000 state houses to community housing providers in Tauranga and Invercargill is no experiment.
Congratulations to Ricky Houghton, the He Korowai Trust and Campbell Live on an excellent piece demonstrating the value that community housing delivers in our communities.
Christchurch City Council's recent recognition at the Canterbury Health in All Policies (CHIAP) Excellence Awards shows the significant progress being made towards smoke-free social housing, says Councillor Andrew Turner.
"The transfer of 2800 state houses to the joint Auckland Council-Government owned special purpose body, the Tamaki Redevelopment Company, will result in the biggest investment in the Tamaki community since the 1950s and presents the opportunity to revitalise the communities of Glen Innes, Panmure and Pt England," says Stephen Selwood of the New Zealand Council for Infrastructure Development.
Nga Iwi Katoa is looking for someone to provide part-time community projects management support to our Project Manager and Leadership Group.