CHA Letter to MHUD and MSD re Covid-19 response.pdf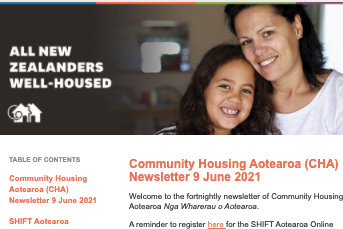 In this newsletter we learn more about the benefits of tenant engagement, the Community Housing Aotearoa Council's...
No Results Found
The page you requested could not be found. Try refining your search, or use the navigation above to locate the post.
No Results Found
The page you requested could not be found. Try refining your search, or use the navigation above to locate the post.
Our Stories
View Community Housing Aotearoa's media releases, news, newsletters and case studies below.
National will continue its programme of reform to the housing sector to increase the number of new affordable homes and ensure fit-for-purpose social housing for New Zealanders most in need, National Party's Housing Spokesman Dr Nick Smith says.
1. House prices in Auckland • Council valuations indicate Auckland house prices have gone up by one-third over the last three years. (Auckland Council) • The average Auckland house price has gone up by nearly $225,000 since 2008, up over $75,000 in the past 12 months. (QV) • It now takes 50 years to pay off the average house in Auckland. (NZIER)
Christchurch City Council will help fund a collaborative project with Christchurch City Mission and the Government to address emergency housing needs in Canterbury.
Housing Accords in Tauranga and the Western Bay of Plenty have been agreed by Housing Minister Dr Nick Smith and local mayors Ross Patterson and Stuart Crosby today that will provide an additional 1175 new homes and sections over the next two years.
Community associations are to play a more substantial role in social housing. Brierley Penn investigates how.
New Zealand's housing stock will become a liability for future generations without urgent leadership from government, says CCS Disability Action.
CHA is confirming a scope of work with the Establishment Unit that will enable us to provide input from our sector into the work of this joint Treasury and MBIE project.
To ensure our ability to timely act on opportunities as they arise, CHA is now requesting Expressions of Interest from organisations and consultants with expertise and capacity in the following areas: 1. Legal Services 2. Tax Services 3. Financial Services 4. Data Services 5. Research Services
A neighbourhood regeneration project consisting of 32 new homes, a new Early Childhood Education centre and the redevelopment of the local Scout Hall was launched today as the first phase of the long-term plans of the Tāmaki Redevelopment Company (TRC).
Auckland Mayor Len Brown and Housing Minister Nick Smith have this morning joined the local community in the Tamaki area of Auckland to take the first physical step in the regeneration of the area in which 16,000 people live.