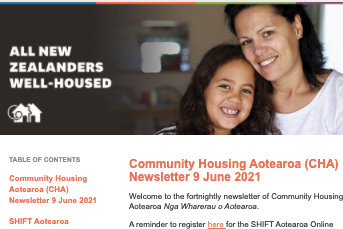 CHA Newsletter 16 March 2020 .pdf
No Results Found
The page you requested could not be found. Try refining your search, or use the navigation above to locate the post.
No Results Found
The page you requested could not be found. Try refining your search, or use the navigation above to locate the post.
Our Stories
View Community Housing Aotearoa's media releases, news, newsletters and case studies below.
Here is the latest edition of the newsletter with news and events and articles about New Zealand's community housing sector.
Housing New Zealand has evicted tenants from nearly 1000 state homes in the past two years, after finding they could afford private rentals. The most frequently evicted tenants were couples with children.
Figures from the Wellington City Council provided to Stuff show that, in nine of the past 13 financial years, the number of dwellings built in the capital fell short of the estimated number required. By the end of last year, Wellington city was an estimated 3590 dwellings short of where it needed to be.
The Wellington City Council will build 750 new units of social and affordable housing in the next 10 years, the mayor has announced.
In its first three months of availability, October to December 2016, 9,000 grants were made to 2,600 families needing Government's new emergency housing grant. Government expected 1,400 homeless families to need the grants to pay for a week's accommodation in a motel with an expected cost of $2million a year. Instead it spent nearly $8 million in three months.
Oasis is an emergency housing service in the Hutt Valley. Please call them on 04 566 1601. Their address is Suite 208, 2nd Floor, Hutt City Dental Centre, 14 Laings Road, Lower Hutt.
​On our doorstep, is a documentary made by students from AUT's master of human rights class that draws attention to the situation of youth homelessness.
Horowhenua District Council are inviting registered community housing providers (CHP's) to submit proposals to purchase and manage Council's pensioner housing portfoli, and to respond to anticipated demand growth for affordable housing in the Horowhenua District.
Community and Public Health has developed a toolkit to assist social housing providers to implement smokefree policies in social housing settings. Increasingly, improving population health has become a shared goal across many sectors, including social housing, and a smokefree social housing policy can result in win-wins for tenants, housing providers, and the wider community.
Here's some resources that you may be interested in viewing on the area of indigenous homelessness and addressing homelessness for Maori, from here and overseas.