Public Housing Funding Review May 2020 - CHA preso.pdf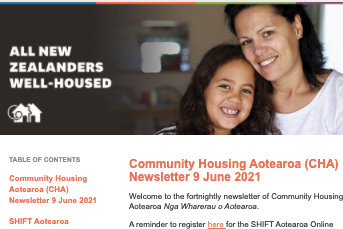 Community Housing Aotearoa (CHA) Newsletter 03 March 2020.pdf
No Results Found
The page you requested could not be found. Try refining your search, or use the navigation above to locate the post.
No Results Found
The page you requested could not be found. Try refining your search, or use the navigation above to locate the post.
Our Stories
View Community Housing Aotearoa's media releases, news, newsletters and case studies below.
In this latest edition of our newsletter we find out about the work of Te Rūnanganui o Ngāti Porou who are encouraging home ownership for iwi in the Gisborne region. We've also got more on the CHA - IMPACT conference 2017; a look at youth homelessness; more on the methamphetamine contamination draft guidelines and HNZ housing stock transfer in Christchurch.
New Zealand is up to 60,000 houses short, with Auckland needing as many as 35,000 homes, estimates in a Treasury document suggest.The figures are part of housing supply and demand forecast produced in September of 2016 and released in January as part of an Official Information Act request.
Reporter, Rob Stock, thinks that restoring the ability of young New Zealanders to buy a home is being tipped as a defining issue of the upcoming general election.
​Amy Adams talked to Stuff reporter Sam Sachadeva yesterday commenting on her support of community housing's role in addressing social housing shortfalls.
In this first edition of the CHA newsletter for 2017 you will find the latest report on the community housing data supply survey, information on the methamphetamine contamination draft guidelines , Sustaining Tenancies funding announcements and recent research on housing affordability in New Zealand.
Soaring house prices on the Kapiti Coast north of Wellington are pushing out poorer families and causing big shortages of housing for elderly people, the district's mayor says.
​Youth homelessness is a pressing issue worldwide that requires urgent attention. To help address the issue, a collaborative group of organizations from Canada and Europe have developed Youth Rights! Right Now! Ending Youth Homelessness: A Human Rights Guide for grounding strategies to end youth homelessness in international human rights law.
Home ownership is nudging a new low with the least number of Kiwis living in their own home in 66 years.Nationwide 63.2 per cent of people today live in their own home - the lowest rate since the 61.2 per cent recorded at the 1951 Census - whereas 33 per cent live in a rental.
In the new year RNZ's political reporter, Demelza Leslie, talked to Scott Figenshow of CHA, UNICEF's Vivian Maidaborne and Human Rights Commissioner, David Rutherford where they explore what can be done about an issue which was seldom out of last year's headlines-homelessness.
The People's Project , set up in August 2014 with the goal that no one would be living on the streets or sleeping rough in the city by the end of this year, has found homes for all but two of the 80 rough sleepers in the city, and homes have been found for hundreds more who needed help.