Public Housing Funding Review May 2020 - CHA preso.pdf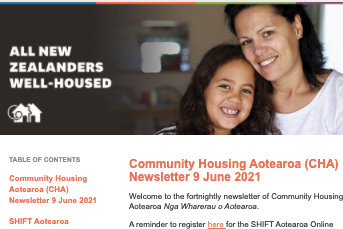 CHA Newsletter 26 November 2019.pdf
No Results Found
The page you requested could not be found. Try refining your search, or use the navigation above to locate the post.
No Results Found
The page you requested could not be found. Try refining your search, or use the navigation above to locate the post.
Our Stories
View Community Housing Aotearoa's media releases, news, newsletters and case studies below.
In the new year RNZ's political reporter, Demelza Leslie, talked to Scott Figenshow of CHA, UNICEF's Vivian Maidaborne and Human Rights Commissioner, David Rutherford where they explore what can be done about an issue which was seldom out of last year's headlines-homelessness.
The People's Project , set up in August 2014 with the goal that no one would be living on the streets or sleeping rough in the city by the end of this year, has found homes for all but two of the 80 rough sleepers in the city, and homes have been found for hundreds more who needed help.
Talking to RNZ last night, ​Community Housing Aotearoa chief executive Scott Figgenshow said there was no quick fix to make housing affordable for people on low incomes and addressing the problem required decisive action from the government, as well as charities and NGOs. "We certainly look forward to sitting down with minister Amy Adams in the New Year," he said.
In this newsletter we have information on the new MSD Purchasing Strategy– a positive step toward the long term pipeline of new supply; requests for proposals for social housing outside Auckland; information on the Christchurch Stock Transfer and the report from the National Māori Housing Conference 2016.
​The fourth biennial National Māori Housing Conference 2016 was held at the ASB Baypark Arena, Tauranga and hosted by Tauranga Moana. The theme of the Conference was "Mā whero ma pango ka oti ai te mahi" (Collaboration and Strategic Relationships).
This Purchasing Strategy contains the latest information on how, and where the Ministry expects to fund social housing tenancies through the income-related rent subsidy (IRRS). They have signalled they will be working to secure another 3,800 social housing places nationwide by 2019/20, almost half of which need to be one-bedroom places.
A variation on the Auckland IRRS plus capital funds scheme is now available from MSD in the five additional communities of Whangarei, Hamilton, Wellington, Lower Hutt and Christchurch.
A new development in Auckland is an example of community housing providers and agencies working together to house vulnerable families. The new 15-unit apartment block for transitional housing in Glen Eden is the result of a collaboration between Housing New Zealand and providers VisionWest, Monte Cecilia and Airedale Properties, with support from LifeWise.
Leonie Freeman introduced her Auckland housing plan at the CHA seminar on 26 October where we heard how she wanted to bring together multiple stakeholders to address housing affordability in Auckland.
In August, TRC issued an invitation for expressions of interest for the first phase of a programme to redevelop approximately 1000 existing social homes into approximately 2500 new social, affordable and private market houses in northern Tāmaki.