CHA_CNSST case study Final.pdf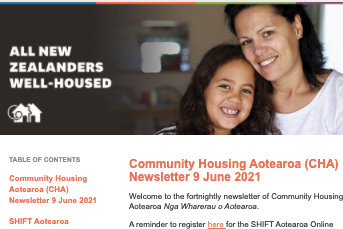 Community Housing Aotearoa (CHA) Newsletter 02 November 2020.pdf
No Results Found
The page you requested could not be found. Try refining your search, or use the navigation above to locate the post.
No Results Found
The page you requested could not be found. Try refining your search, or use the navigation above to locate the post.
Our Stories
View Community Housing Aotearoa's media releases, news, newsletters and case studies below.
About 350 residents of Ngongotaha, 10 kilometres northwest of Rotorua city, left two information meetings on 5 and 10 April very angry that Mayor Steve Chadwick and Rotorua Lakes Council have asked Phil Twyford, Minister of Housing, to declare a Special Housing Area on the northern outskirts of their village, without notification and consultation.
The Social Services and Community Committee is seeking submissions on the Residential Tenancies (Prohibiting Letting Fees) Amendment Bill. The bill aims to ensure that costs associated with letting a rental property are met by the landlord, who benefits from letting a rental, rather than the tenant.
New Zealand's rental industry will be stronger if the Government considers regulating both private and professional property management, like overseas markets do, in their review of the Residential Tenancies Act.
Traditionally, Māori and Pasifika families are larger, with more children and multi-generational needs. Home ownership is on the decline and private rental housing is often out of reach for these communities. At the same time, the supply of social housing for those with extended families or many children, is in short supply.
Landlords who fail to ensure the safety of their tenants have been sent a clear message by the Tenancy Tribunal after a Christchurch landlord was ordered to pay $4,100.00 after a non-compliant gas supply was found at one of her properties.
The United Nations has supported calls for New Zealand to adopt a human rights based national housing strategy.
Tenants who rent through a property management company are significantly more likely to experience problems, a Consumer NZ survey has found.
Community Housing Aotearoa says the government will fail if it only listens to government departments in producing a national housing strategy.
The small accommodation supplement increases made under National's 2017 budget are finally being implemented by the Labour Government. But beneficiaries are still left wanting for basic items such as food.
Affordable housing for 50 Queenstown families has been given the green light, with the local housing trust securing finance to invest in Frankton's new apartment development.